PE 1000 UHMW CHAIN TENSIONING HEAD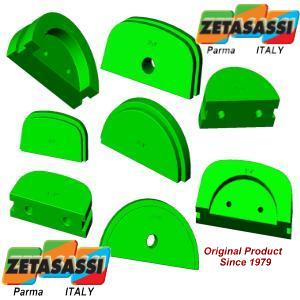 PE 1000 UHMW CHAIN TENSIONING HEAD
The chain tensioning head are made of anti wear plastic material with low friction coefficient ( Polyethylene 1000 Kinetic friction coefficient 0,06 dry steel). They resist to a temperature up to 80°C.
They have various shapes and they are made of polyethylene so their wear is almost zero. They are available for simple, double or triple chain type ISO or ASA, round or oval shaped.
They are worked with our CNC , checked by skilled staff to get the best quality control. The tolerances of the various components allow the product to work properly and to last long time.
The material used for our products is Polyethylene 1000 but on demand we can make also items on drawing with Polyethylene 9000 or polyethylene 2000 that can be use in food industry.